The Reception Integration Matrix
The power and the key to effectiveness comes from clever combinations of different technologies and resources. There is no 'one-size-fits-all' Reception Solution. It all depends on your objectives and resources. Every Reception is different. So is yours.
Teleportel offers 3 main types of Reception Technologies which can either replace or be combined with a physical (human) receptionist :
Digital Reception
Pre-registration, registration, notification of the host. There is no human involvement.
Virtual Reception
An A.I.-assisted Reception application and /or intelligent, pre-recorded video-content interacting automatically with the Guest. There is no human involvement.
Reception over Distance
The reception 'kiosk' is attended over distance, by a real receptionist residing in a remote location To this end, high-quality video is used. The quality is not comparable with web-based video chat applications (such as MS Teams, Skype, Facetime, Zoom, etc..). The very high quality of video - featuring 2D imagery or 3D Holographical Reality with genuinely aligned eye contact - is truly as effective as having a real receptionist behind the counter. You need to experience it personally to truly grasp the power of these video technologies.
These 3 Reception Technologies each feature a wide range of 'building blocks' (specialized hardware and software) which come into play when custom-building to meet the exact customer requirements. These building blocks have been designed to be open to be integrated with systems and databases that may already be in use.

Examples of applications to integrate with, include :
Visitor Management Systems
Access Control Systems (speedlanes, speedgates, etc..)
Different Agenda Systems
MS features such as Outlook, ADFS, Single Sign-On, etc..
Databases (ERP, CMS, proprietary, legacy)
Authentication & Identification systems
Ticketing and Waiting line Mgmt
Workplace Systems (reservation of conference rooms, working spaces, catering,…)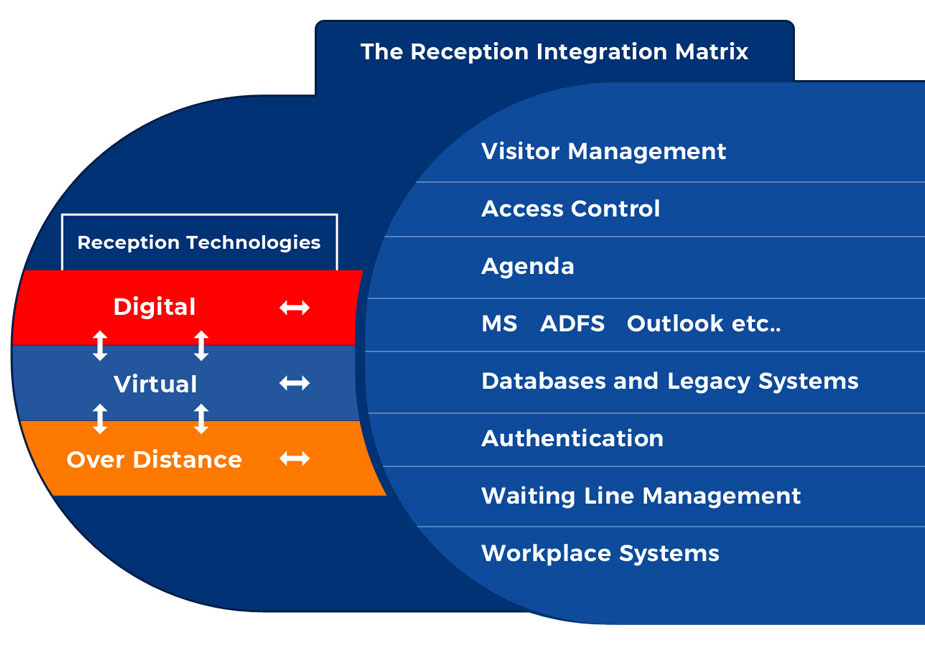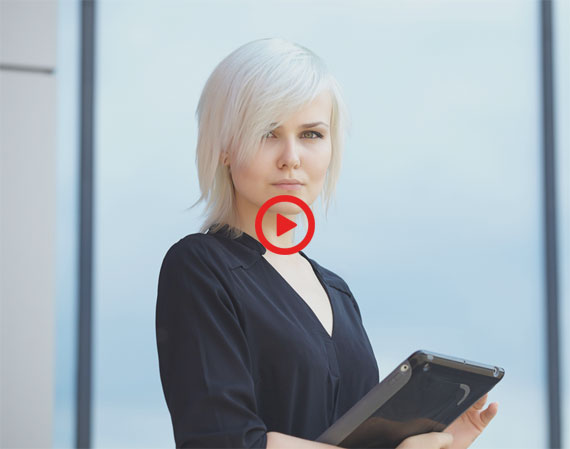 The best possible result
For the best possible combination of cost-savings and high quality personal service, we recommend to aim at 80% of the Reception Interaction to be Automatic and by Self-Service (featuring Digital Reception and Virtual Reception) and at 20% Live Human interaction (Reception over Distance) in combination with a real, physical receptionist , using a tablet with an advanced application.

In this video clip, you can find one example of how this looks like in real-life
Reporting
The system generates the data to create detailed reporting. This includes : utilization rate of reception kiosks, occupancy of the receptionists, number of visitors per time-frame, waiting times of visitors, connecting times, time spent where, visitor satisfaction ratings, etc… This data will allow you to continuously improve the effectiveness and quality of the Reception Service. There is no finish line : there is always room for improvement when it comes to Service. The reports will reveal where the weak and strong points of the Hospitality Chain are.
This advanced reception application will enable you to reduce the number of physical receptionists while maintaining warm, personal contact with the guests at a high level of physical security. The improvements are not marginal. This will bring breakthrough results.