RECEPTION PROCESS FLOW
The Teleportel Visitor Management System has been designed to allow adapting to your specific situation and environment. The touchscreen of the Kiosk is customized to meet your exact requirements. That customization features your house-style (logo, colors, visuals, etc…) and it can also include specific options such as – for instance : Reserve Taxi, Order Lunch, Public Transport Information, Parking facilities, Visitor Satisfaction Rating, Covid check list, …

In general – in its basic version - the screen offers 3 choices :
I have an appointment
I do not have an appointment
I am here for a delivery

When selecting 'I have an appointment', the guest is offered the choice to scan QR, enter PIN code or select the name of the contact-person (from a drop down list) and to register.

If 'no appointment' we recommend to establish an automatic live video interaction with the remote receptionist. Or if such a person is not available, the visitor may self-register and a notification may be sent to someone within the organization, who will assist the visitor further.

In case of 'delivery', specific instructions can be provided, depending on your available resources. That may include sending a notification or establishing a telephone call (connecting with VoiP, GSM or landline) with a logistics person, provide instructions on how to use the intelligent parcel lockers, etc... You may also want to use the Assisted Parcel Lockers whereby the live video reception is integrated into an intelligent parcel locker.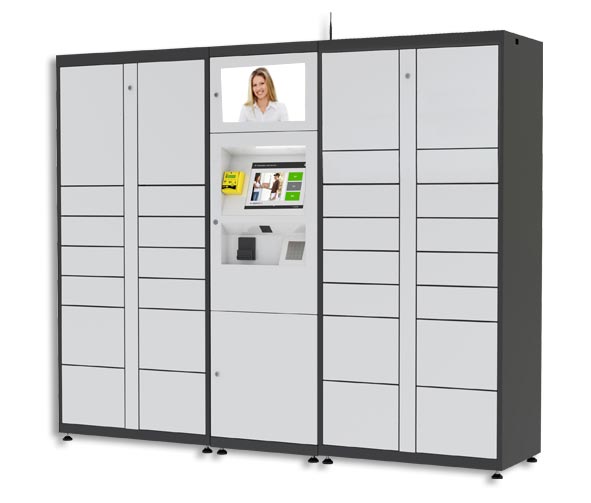 These instructions can be refined based upon the size of the delivery (pallets, small boxes,..) or recepient or transport company (Fedex, DHL, etc..). In other words, you define exactly how this 'Delivery and Pick-Up'process will look like.