'Systems for Video-Automation and Live Video Calls' custom-built for your specific business and situation.
The human website-robot takes next step in customer service.
1. Tailor-made video-program services customers in the same way a real person does.

2. Acts completely automatically and connects the customer with a remote, live person when needed.

3. Integrated with ICT systems and peripheral equipment for autonomous and lifelike operation.


The Video Operating System
AVICCSTM (Audio and Video In the Cloud Contact System) is the cloud-based operating system for video Communication contact center operations. This system enables natural human interaction by engaging in high-quality, real-time visual communications. Face-to-face. The whole-in-one, intelligent video contact center system manages and controls the real-time video communications automatically. Many man-years have been invested in the development . AVICCSTM automatically manages video-communications, audio and data on private networks (for instance 2D and 3D Kiosks) and also on the Internet, interacting with users at home. This results in -what is today probably the most advanced, readily useable video contact center system.

All the details in this download (AVICCS3)
The Omni-Agent
'Human Avatar' First of its kind.
The Omni-Agent is available for 2D displays, for 3D Virtual Teleportation displays and also for the website. Thanks to this multi-channel approach your services can be available anywhere, 24/7 and without interruption. The system offers a fully automatic, personalized service to users, without human involvement. The Omni-Agent is not digital but is 'human' and looks and sounds like a real person. It interacts with your customer, just like a highly-skilled, knowledgeable and friendly co-worker would do. Often better. Thanks to this, the users accept this form of automation as a viable alternative for a real person. We take this as far as is necessary to maximize the customer experience. The Omni-Agent reads user identification, interprets and processes inputs initiated by the user and responds accordingly. It prints, scans, instructs and interacts with the user in an intelligent way. It integrates with company databases and it steps aside to connect with a live agent in a remote location when required. This advanced, automated and fully-interactive 'self-service' system results in breakthrough results in terms of cost cutting and service improvement. The Omni-Agent is configured and programmed to suit your specifc needs and requirements.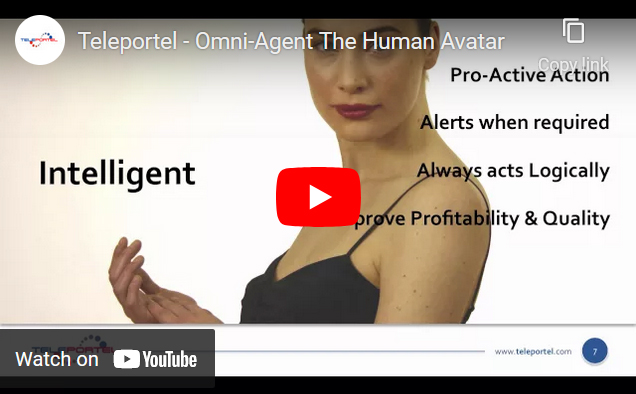 Internet Applications
This is an overview of the internet software applications. There is no software download required : the application works from the browser for all the users. All that is needed is a PC and an Internet connection. The network bandwidth requirements are very low. These applications can easily be integrated in your existing website, without changing it. The level of security is high thanks to encryption and network configuration techniques.
Attended by HumansTM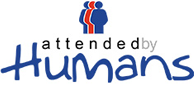 Your website visitors meet you live on your website
Cloud-based video tools for Customer Support, Online Sales, Selection and Recruitment. Without the need of software. With aligned eye-contact. From your own website, without having to change it.
Read More
The Services FactoryTM

This fully-integrated cloud-system revolutionizes your services : generate and deliver your services through the factory-in-the-cloud. The automated Self-Service (see Humanoid Avatar) in combination with live-video communications with staff in remote locations, leads to breakthrough results in both manpower savings and quality of service.
Read More
The BeehiveTM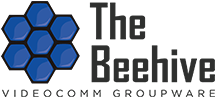 For all your internal video communications with one or many. This application can also be used as 'trade-show and exhibition' application (called 'The Plaza'). From your website, your customers and prospects connect and interact live with members of your staff. One-to-one. Multi-pointing, Full data-collaboration. File transfers.
Read More
Language InterpretationTM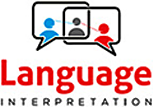 Everybody in your organization can communicate fluently with other-language speakers who could be anywhere in the world. This is not machine-translation but on-line, consecutive or simultaneous language interpretation by professional, skilled linguists who reside in the cloud. You see the other person (on your screen) speaking his/her own language, but you will hear him/her speak yours. You will speak your other tongue, but the person in the remote location hears his/her own language. Perfectly in both directions.
Read More
Speed-ContactingTM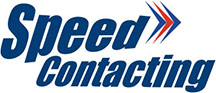 Meet and interact with many individuals; one-by-one, privately and personally, Every 6 minutes the connection will be disconnected and reconnected with another person ; completely automatically. This way you can meet up to 10 people in one hour. For sales, selection and recruitment, networking, etc..
Read More
Co-Browsing

With permission of the remote party, you can view his PC screen, while the video connection is intact. This is very helpfull in assisting customers online ; for instance to explain to a customer how to fill in a form or document while he is actually doing it. This function will not give you control over the PC of the customer, which is re-assuring to your customers. You can only view but you cannot take any action on the remote computer. Very safe and effective to assist your customers.
Compatible with almost 2 billion users.